Premium Backup
Backup4all Professional
FBackup
FBackup sauvegarde vos fichiers. Gratuitement!
About FBackup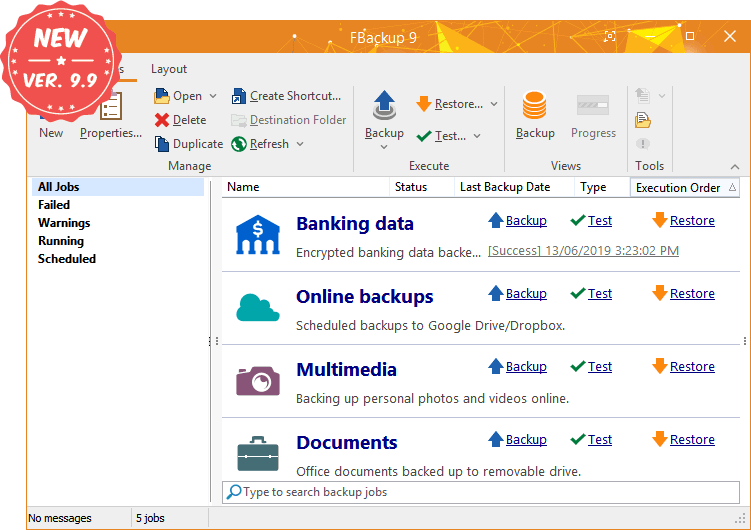 FBackup possède une interface simple et vous guide durant le processus de définition d'une tâche de sauvegarde en utilisant un assistant convivial qui vous demande :
Où vous voulez stocker la sauvegarde (la destination).
Que souhaitez-vous sauvegarder (la source).
Comment voulez vous lancer la sauvegarde (en utilisant une sauvegarde complète qui zippe les fichiers, ou sur une sauvegarde miroir qui ne zippe pas les fichiers).
Quand voulez–vous exécuter la sauvegarde (vous pouvez la planifier pour l'exécuter automatiquement ou la lancer manuellement).
Une fois une tâche de sauvegarde définie vous pouvez l'exécuter manuellement en appuyant sur le bouton Sauvegarde (ou F6), ou si vous avez ajouté un agenda elle se lancera automatiquement. FBackup peut facilement sauvegarder les sources à partir de périphériques locaux (incluant des périphériques USB connectés) vers les destinations telles que des périphériques USB/Firewire connectés ou dans des emplacements réseau définis. Il créé soit des fichiers zip standard (lors de l'utilisation du type de sauvegarde complète), ou des copies exactes des sources originales sans aucune compression (en utilisant le type de sauvegarde miroir).
Read more
Screenshots
Caractéristiques principales
What makes FBackup stand from the crowd
C'est gratuit y compris pour les usages personnels et professionnels
FBackup est une logiciel gratuit de sauvegarde pour les usages personnels et commerciaux. Cela signifie que vous pouvez économiser de l'argent en n'achetant pas d'autres programmes de sauvegarde.
Sauvegarde automatique
Vous définissez une tâche de sauvegarde, vous la réglez pour l'exécuter automatiquement, et n'y pensez plus. FBackup exécutera automatiquement la sauvegarde à la date planifiée, ainsi vous avez l'avantage de ne pas seulement avoir vos données protégées, mais également vous économisez un temps précieux.
Sauvegarde avec compression zip standard
Lors de l'utilisation du type de sauvegarde complète, les sources seront archivées en utilisant la compression standard zip. FBackup utilise la compression ZIP64, ce qui signifie qu'il peut créer des fichiers zip d'une taille supérieure à 2Go. De plus vous pouvez protéger le fichier zip en demandant un mot de passe pour extraire les données de ce fichier.
Testimonials
What our users say about FBackup
I've tried many backup applications over the years. Cobian, Comodo to name a couple. Though those are very good, freeware solutions. I must admit that after trying FBackup, this one is the best I've ever used. It is also very powerful and unique as far as backup software is concerned.
DarrenWalker (Fileforum)
Very useful piece of software for any user. Simple to use and easily backups your files and protects from corruption. I recommend this to anybody looking for a simple and easy to use software for backing up their important files. It's free so it means you don't pay for anything.
Raidenzxz (Download.com)
Have used this software both for back up and more importantly for restore. It worked as advertised. It was simple and worked well. It has saved me now twice when a bad motherboard took out the hard drives in raid mirror setup. I like the better package now due to the greater range of ability.
Breebree (Fileforum)
Easy to use and able to specify just what is to be backed up. I have it set up to do 7 different jobs, Videos, Documents, Music, Desktop, Outlook and Photos. Options of "zip, mirror and full" backup formats provide flexibility when capacity constraints are a factor.
HjHarris (Download.com)
A complete, easy to use, reliable and versatile backup application at last. I was impressed by FBackup after trying (and uninstalling) so many others. FBackup does all the things I want to be done, so it's here to stay. Recommended!
Nicholas (Fileforum)
Amazingly full-featured for a free program. Broad capabilities, including all the 'standard' backup options, but with many more features that the competition holds out for paid upgrades only. It took awhile to find FBackup among all the tools out there, but it was worth the extra searching.
Kfitzharr (Download.com)
Tutorials
Watch videos that show FBackup in action
We're Softland
Learn more about the company that makes FBackup
About us
Softland is a company founded in 1999, committed to providing quality software by using innovative development solutions. We always put the needs of our customers first and that's why we value our users' feedback.
About Us
Contact Us
Contact us with any questions/suggestions you might have regarding FBackup. If you are experiencing errors with FBackup, we recommend checking first if there isn't already an answer here: FAQ / User Forum
Get in touch
Our Products
The products we develop and maintain target two different fields: file backup (Backup4all and FBackup) and PDF creation (novaPDF and doPDF). Since 2011 we also run Soft112, a software download library.
Products
FBackup in numbers
FBackup is continuously developed since 2006
FBackup
Download & Rate FBackup